Another magnificent production by 7th Sky Entertainment; Ramz-e-Ishq, featuring Mikaal Zulfiqar, Hiba Bukhari, and Kiran Haque, has been raking in huge ratings from the viewers because of its excellent storyline and the mind-blowing performances by the cast.
Directed by Siraj ul Haque and beautifully scripted by Misbah Nosheen, Ramz-e-Ishq is a story of love, principles, and vengeance.
The story revolves around the three youths belonging to a family of modern-day Nawabs; Rayan, Roshni, and Rania. Their lives are majorly dictated by what happened in the past, and has a huge impact on the present-day life of the young Nawabs.
Roshni is the daughter of Wajahat Ali the late son of Nawab Hashmat Ali. Wajahat Ali gets disowned by his family when he chooses to marry against his father's will and his marriage becomes a reason for his sister Saffiya's divorce.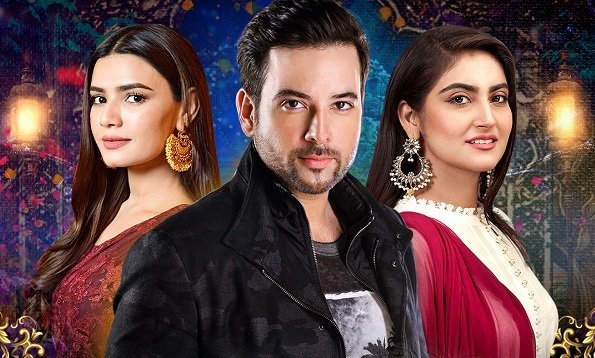 Ramz-e-ishq episode 29 in review
With the 29th episode that aired last night the secret is finally out when Rayyan in-front of his entire family calls Roshni his wife.
Saffiya and Rania are worried about Roshni's importance in Rayyan's life and are constantly thinking ways to break their bond. After finding out about Roshni's divorce with Omer, she is persistent on aborting Roshni's child. Saffia tries to force her into taking pills to which Rayyan overhears and runs to protect Roshni. Rayyan, when he sees Saffiya's behavior with Roshni, gets carried away with his emotions and gets very angry at Saffiya and opens up about his relationship with Roshni. The chaos brings everyone into the room, and upon hearing about Roshni and Rayyan's relationship, everyone is shocked. Rayyan afterward visits his grandfather to apologize for his acts.
Ramz-e-Ishq is a family show that portrays the struggles of individuals belonging to influential families, how they are handicapped by the age-old principals they have to live by. The story is at a crucial stage right now, and we can't wait to see how the story would further unfold.
What do you think of this episode of Ramz-e-Ishq? Share your comments below.
Sundus is a Media Graduate from Kinnaird College Lahore. Writing and Reviewing is her passion that she takes out at www.trendinginsocial.com.