Internet Sensation Mathira becomes the latest victim of a leaked video. Model, host & social media star much famous for her bold statements and shoots, commenting on the issue stated that the alleged videos are fake and edited, the model claims to take legal action.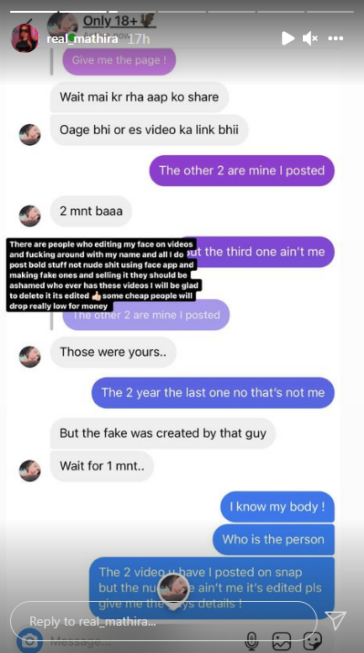 Mathira's take on her alleged leaked video
Mathira took it to her Instagram stories and shared screenshots of a chat with someone. While the context of the conversation is unclear, Mathira added captions saying that some nude videos are being circulated on social media with her face. She further said that the videos are doctored with her face having been pasted on via face swapping or editing. In one of the screenshots, she explained how the nude videos are doctored. Moreover, she claimed to take legal action against it if need be.
Mathira, further said that "A video has been moving the internet that has been edited," she further wrote. "The other two videos are mine because I posted them publicly on Snapchat but a stupid and nude one is edited and not me. My body is tattooed everywhere and so are my fingers. Please stop this nonsense. Whoever edited this will be punished, InshAllah."
Screenshots of Mathira's take on her alleged leaked video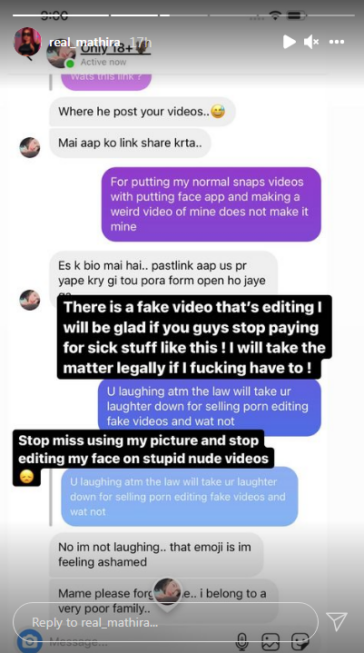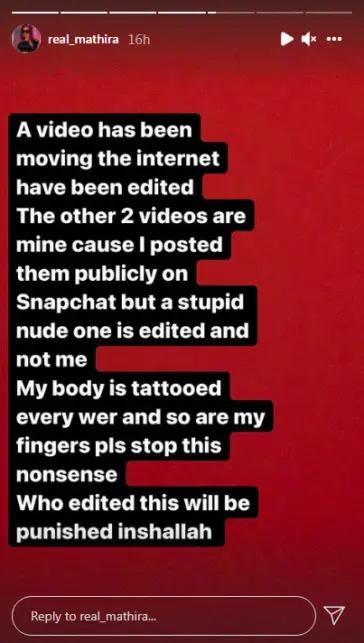 Who is Mathira?
Mathira Mohammad better known as Mathira is a Pakistani model, dancer, television hostess, singer and actress. She has hosted several television shows and appeared in music videos. She is known for her Item songs in Main Hoon Shahid Afridi and the Indian Punjabi film Young Malang.
Mathira married Punjabi singer Farran J Mirza (also known as Flint J) in 2012. The couple has a son, Aahil Rizvi who was born in 2014. The couple parted ways in 2018, due to misunderstandings.
Mathira's latest Pictures
Afsheen is a writer with an extensive experience in creating authentic and well-researched articles.